In 2019, nearly 11,000 individuals across 450 companies participated in the Movember Business Club (MBC) challenge, raising over $4.3 million for men's health. The workplace community plays a key role in helping Movember fund world-class programs year-round that are making a tangible difference in the lives of men and their families.

We thank CME Group, Cox Enterprises, Lord, Abbett & Co. LLC, Workday, and all of our generous MBC partners for their continued support and enthusiasm in championing our efforts to raise funds and awareness for mental health and suicide prevention, prostate cancer, and testicular cancer.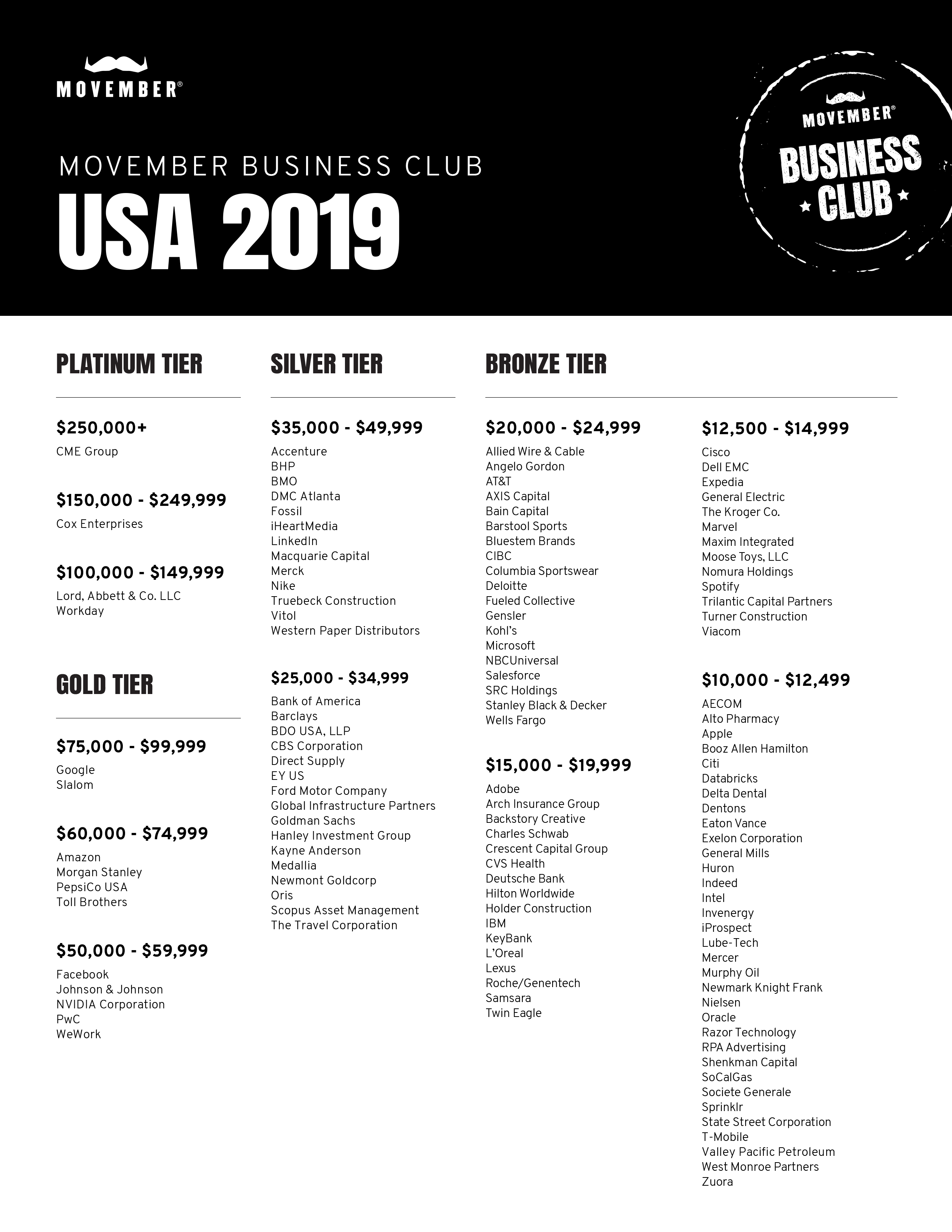 "When you invest in charitable organizations your employees care about, they feel proud of the business they work for. They are united, they show up to work happier, and are more productive. As we head into another year, every corporate partner is helping us change the face of men's health and every conversation started, every follicle grown, and every dollar raised matters." - Rebecca Zada, Movember Corporate Partnerships

About the Movember Business Club:
The Movember Business Club is a global network which convenes corporations that care about men's health. Year-round engagement opportunities offer team building educational and fundraising campaigns that support HR, CSR, Wellness teams and Employee Resource Groups to foster staff pride and support employee retention. The network competes each November in an epic, month-long competition between businesses of all kinds, each aiming to hit ambitious fundraising targets to change the face of men's health. Participants in every department and at all seniority levels grow moustaches, host events, or get active for the month, coming together to have an everlasting impact on men's health.

MBC is active in Australia, Canada, France, Germany, Ireland, Spain, Switzerland, UK, and USA

As we approach the hairiest month of the year, we hope you will join this powerful community. If you are interested in getting your company involved, please email mbc.us@movember.com for more information.