Black men don't just set trends.
They shape culture.
What will you create?

Movember is building a collective of inspirational digital creators who will motivate young Black men across the nation to step into their human potential, take good care of themselves, and thrive.
The Movember Rooted and Rising Collective 2021 consists of 10 brilliant emerging digital creators who are elevating their businesses, nurturing their well-being, and creating content that inspires young Black men to live happier, healthier, longer lives.

@rootedandrisingcollective
THE MOVEMBER ROOTED AND RISING COLLECTIVE 2021
THE MOVEMBER ROOTED AND RISING COLLECTIVE IS DESIGNED TO HELP BLACK MEN THRIVE
Movember Rooted and Rising is an 11-week creative training program that brings together a collective of emerging creators and is working with them to provide tailored support for each participant's creative, business, and personal goals.
The creators are being supported in:
Defining and building their creative brand

Navigating digital platforms to their advantage

Growing their audiences and engaging them more deeply

Preparing themselves for professional representation

Advancing their content development and creation

Sustainably monetizing their creative output
Growing a business is only part of being a successful creative. Creators thrive by also taking good care of themselves, giving back to their community, and looking out for those coming up behind them.
The program also provides:
Tools to thrive personally and professionally while managing the stresses of growing a creative business.

Storytelling approaches to encourage wellbeing practices within their audiences

In the tradition of griots and bards, ways to harness the power of their creativity for positive social impact.
All participants receive a stipend of $5,000.
THE MOVEMBER ROOTED AND RISING COLLECTIVE SUPPORTS COMMITTED, DYNAMIC AND PASSIONATE CREATORS
The program is closed for applications for 2021, but if you would be interested in applying in 2022, follow our Instagram account for the latest information.

@rootedandrisingcollective
We are looking for emerging Black male digital creators in the LA area – individuals who have moderate experience and need some support to rise to the next level. You can be any kind of creator or creative hyphenate (musician, influencer, comic, dancer, etc.) across any genre (entertainment, pop culture, lifestyle, documentary). Your work just needs to focus on digital platforms – (TikTok, Instagram, YouTube, etc.).
We need to know you're great at engaging your audience, so we're looking for creators who have at least 20k followers across their channels – and no more than 200k on any one channel. We want to build a community of creators who are at similar professional stages so they can learn as much from each other as they will from the experts leading the program.
Social impact is at the core of this program, so we also need people who have the ambition to make a difference – who strive for personal success, but also want to create positive social change in the community around them.
FAQs
How long is the program?
- The current program is running for three months starting September 1st
Who should apply to this?
- See above for details on the creators we are looking to join the collective.
Will it cost me money?
- No. It will only cost you time, full participation, and commitment to the process.
- You will receive a $5,000 stipend for successful participation.
What do I need to do in return for this support?
- We need creators who will commit to the full 11-week program and will approach each session with positive energy and openness to learn.
- With the goal of helping young Black men across the nation thrive, each participant will create 2-3 pieces of content. The content will share some of the mental wellbeing techniques and approaches they learn during the program with their audiences.
Who will I be learning from?
- There will be a range of creative industry experts who will be leading each of the workshops. The program overall is being overseen by two world-leading experts in digital creativity and mental well-being for Black men: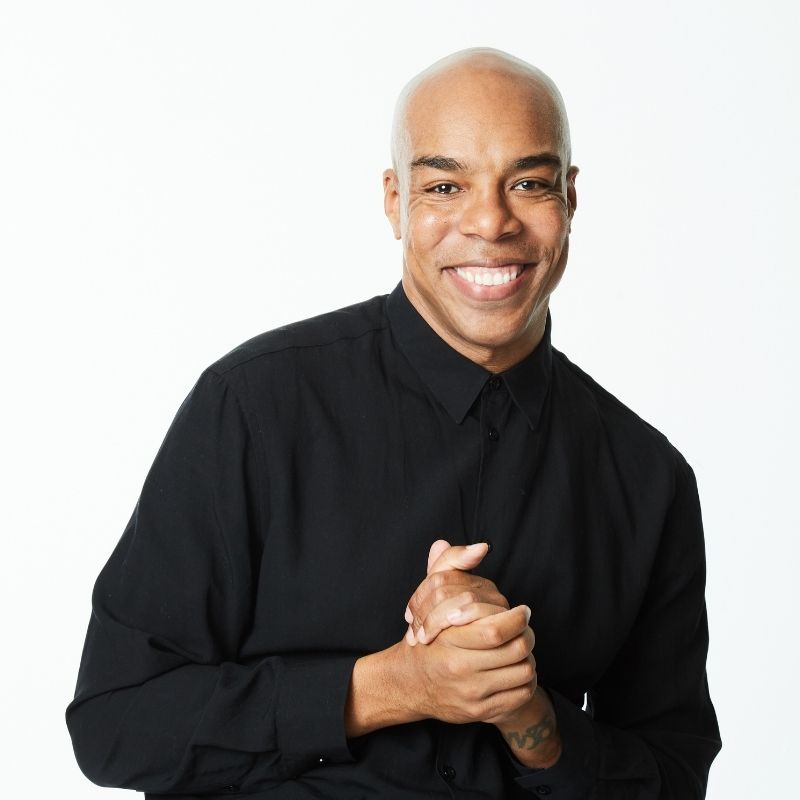 Chris Denson
Chris Denson is an award-winning innovation advocate, marketer, host, and humour-inspired content creator. As both a storyteller and practitioner, he is an expert at uncovering unique business insights, cultural touchpoints, technological applications, imaginative thinking, and the emotional intelligence required to bring groundbreaking ideas to life. From Fortune 50 brands to startups to government entities, he has applied his expertise to help individuals and organizations increase their innovation potential. He is the author of the 2018 Amazon #1 bestseller, "Crushing the Box: 10 Essential Rules for Breaking Essential Rules," creator and host of the Innovation Crush podcast series, and currently serves as the first-ever US Director of Innovation at MullenLowe, an award-winning IPG creative agency.
Dr. Derek Griffith, PhD
Dr. Derek M. Griffith is a Founding Co-Director of the Racial Justice Institute at Georgetown University, Founder and Director of the Center for Men's Health Equity, and Professor of Health Systems Administration and Oncology. Trained in psychology and public health, Dr. Griffith's program of research focuses on developing strategies to achieve racial, ethnic and gender equity in health. He has particular expertise in considering the role of structural racism as a determinant of health. Dr. Griffith also specializes in multi-level interventions to improve Black and Latinx men's health and well-being that use an intersectional approach and consider biological, psychological, and social factors.
The Rooted and Rising Collective is being offered by Movember in partnership with SecondMuse.
SecondMuse is an impact and innovation company that builds resilient economies by supporting entrepreneurs and the ecosystems around them. They do this by designing, developing, and implementing a mix of innovation programming and investing capital. From Singapore to San Francisco, SecondMuse programs define inspiring visions, build lasting businesses, and unite people across the globe. Over the last decade, they've designed and implemented programs on 7 continents with 600+ organizations such as NASA, The World Bank, and Nike. To find out more about how SecondMuse is positively shaping the world, visit secondmuse.com