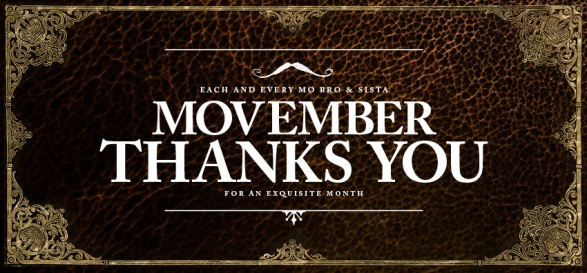 Hoorah! You've made it; crossed the finish line and survived to tell your Movember tale. Congratulations.
As you ease yourself back into a life of clean shaven, smooth faces, we'd like to take this opportunity to thank you for your incredible support over the last 30 days – be it as a Mo Bro, Mo Sista or a donor. It's been a fantastic year, with nearly 64,500 taking part in the US and a total of 450,000 around the world; smashing all previous records. We're also well on our way to surpassing last year's global fundraising figure, which would be an awesome effort by everyone involved.
The collective actions and enthusiasm of Mo Bros and Sistas have proven that men's health is an issue we are all concerned about and one which needs continued highlighting in order to bring about change. We've been blown away by the support shown and feel confident that together we will continue to make a very real difference to the face of men's health, around the world. The awareness being generated by the growth of moustaches and the programs being funded by our men's health partners are worlds class and combined are making a tangible difference to the lives of men and their families. This would not be possible without your continued support and passion for the cause and for this and much more we'd like to sincerely thank you on behalf of the Movember Foundation and our beneficiary partners.
At this time, money is continuing to flow in and so we aren't in a position to announce any final totals, but if you are keen to see how each country is tracking, keep your eye on
Mo Money
. Final figures will be released in early next year, once all funds have been received.
We look forward to seeing you again in 2011 – we hope you enjoyed Movember 2010 gentleman and ladies.