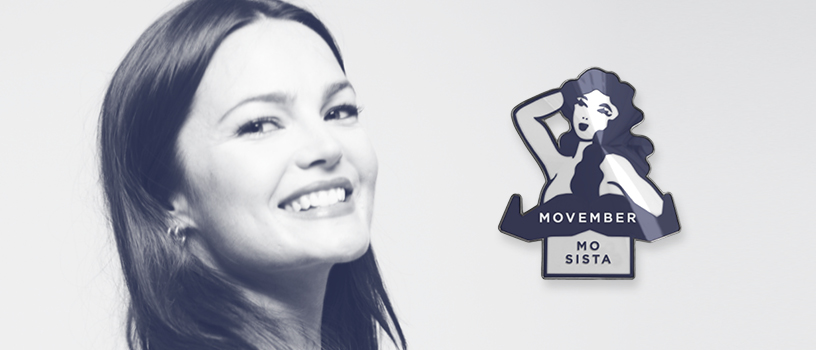 During Movember men around the globe unite, joined together by the moustache, committed to 30 hairy days and nights growing for men's health. But, beside every great Mo Bro is an equally amazing Mo Sista, acting as a driving force for men's health awareness and providing invaluable encouragement for the moustache.
Mo Sistas are women who support the men in their lives growing Mo's and understand the importance of men taking care of their health. They play a vital role in the journey of a Mo Bro. A kind word of encouragement, a wink or a smile of recognition can go a long way to helping a Mo Bro as he navigates the month of Movember – this may be particularly true in the first few weeks when growth can, for some, be a little bit slow.
Mo Sistas are agents of change who seek to inspire friends, colleagues, family members and partners to take an active role in their health. Studies have shown that men are less likely than women to talk about their health as well as visit a physician. Women play an key role in encouraging men to take action to address any health problems they may be experiencing
The Movember participation of a Mo Sista can extends far beyond signing up on Movember.com and starting conversations about men's health – it also involves raising funds and organizing events. Below are a few ideas for Mo Sistas:
Start or join a Team
Once you've signed up on movember.com, recruit your family, friends and colleagues to join you on the hairy journey by
building a team
or joining an existing one.The Mo the merrier.
Raise funds
Spread the word and make the most out of your social networks and workplace email to let everyone know that you're a proud Mo Sista supporting local moustache growers. You'd be surprised by how much timing has to do with whether someone donates to your cause. Catch someone at the right moment by asking for donations multiple times throughout the month on your social accounts. Use the pre-written templates in your Mo Space and visit the
downloads
section for health posters and personalized Made in Movember graphics.
$75 Mo Sista Prize:
To celebrate Mo Sistas fundraising efforts 7 For All Mankind, The Giving Keys, TOMS, and Mr. Moustache have put together an a-MO-zing
prize package
for one lucky lady of moustachery. The winning Mo Sista, who raises a minimum of $75, will get a custom pair of Movember X 7 For All Mankind jeans. If you thought it couldn't get better than a personalized jean, the Mo Sista winner will also receive a 7 For All Mankind tote bag, a limited edition Movember X The Giving Keys necklace, a $75 TOMS gift card, and a Mr. Moustache book. Say what?! Yes, please!
Host a Mo Event
Get the party started with your local Mo's by registering and organizing your own Shave the Date: Movember 1st kick-off party, MOVE active event or Mo Party. Held in your workplace, bar, gym or local hangout, get together to celebrate your Movember journey and raise some extra donations.
Register
your party and receive a free event kit and for information on hosting an event.
Celebrate at a Movember Gala Parté
After a month of raising funds and having fun, it's time to get your best Mo themed costume on and join in the celebrations at our infamous Movember
Gala Partés
. Raise $100 to claim your free ticket. Raise $200 and earn a free ticket for a guest.
Become a mo sista