The reality of physical distancing has well and truly set in – and it's normal to be finding things difficult right now. Keeping in regular contact with friends and family has never been more important. And the Movember community are finding innovative ways to stay socially connected.

For men in particular, the ways we usually stay in touch – going to the bar or catching up over a game - are not an option right now. Not everyone is comfortable picking up the phone or starting a conversation over text, but there are plenty of other ways you can stay in touch with your social circle that feels less pressured.

It doesn't matter how you connect – what matters most is simply finding a way to bridge the distance.

If you're looking for a new way to get your social fix, here are a few ideas from the Movember community to get you started: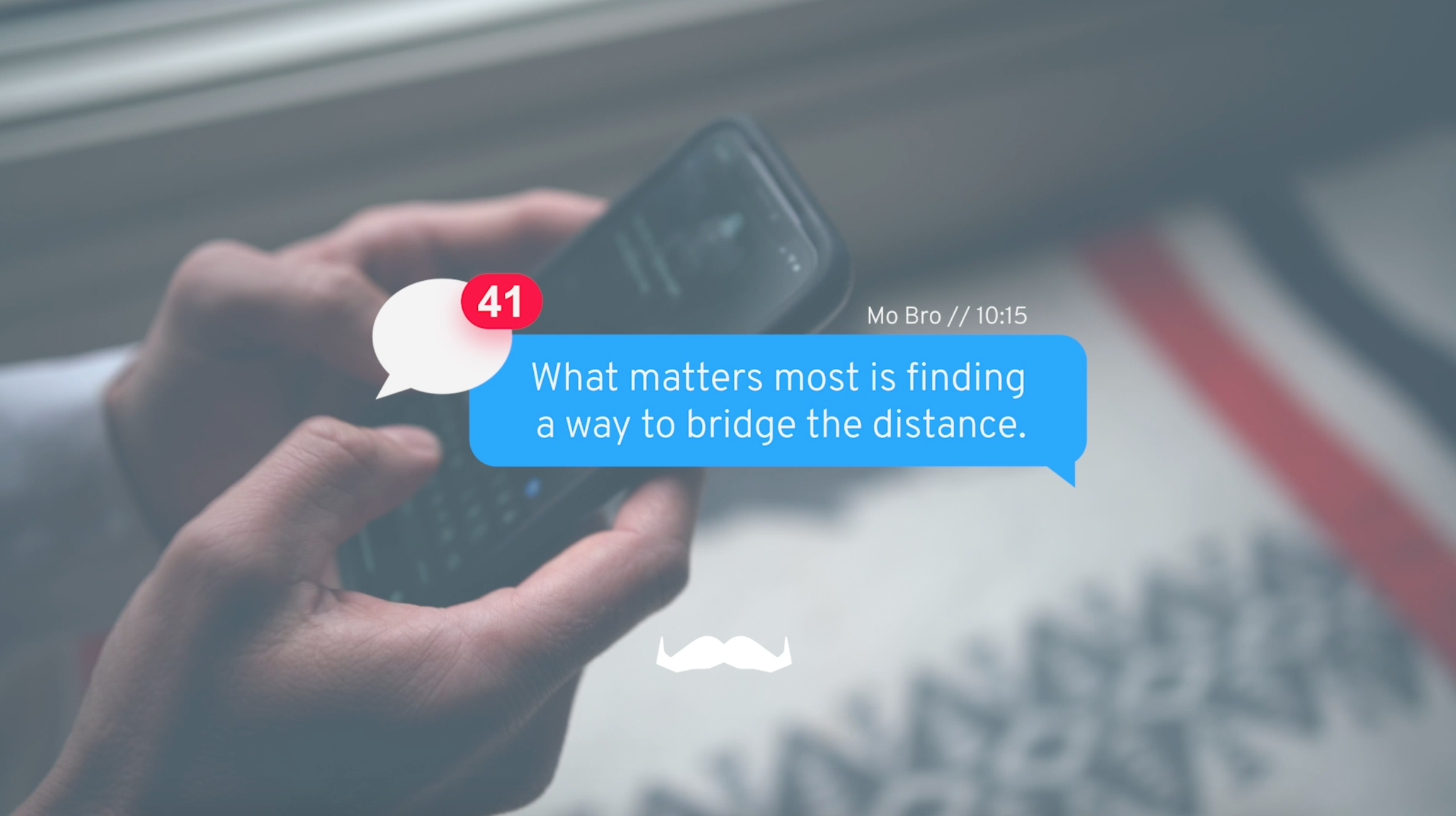 Go old school
Just because technology is the norm for us these days doesn't mean it's the only way to stay connected with loved ones. And for some of us, digital fatigue is definitely setting in. Why not go old school and write a letter or send a care package or funny gift to a friend? They'll appreciate the effort and certainly won't expect it. And for those who aren't fans of the video chat, try a group conference call and just talk without the pressure of staring into a camera.

Make the most of your time outside
Even though we are supposed to stay home, it's important to get fresh air and make sure we're exercising. If you're going for a walk, video call a friend or family member and take them on a virtual tour of your neighborhood.

Have fun with local friends by setting up a treasure hunt. Choose a route a few of your friends regularly follow on their daily walk. Pick out some points of interest, create some clever clues and challenge your friends to identify each marker during their next walk. Whoever gets all the answers right first gets to plan the next hunt. This is also a great idea to do with the kids and don't forget about neighborhood bear hunts.

Game night
Who doesn't love a good quiz? Nominate yourself as quiz master and pull together questions on your favorite topics, then invite a group of friends to meet up on Zoom and take part in a battle of wits.

If you're missing poker night, why not play a round online? There are a number of websites which let you play card games online with friends for free - or download the UNO! app for a real classic. Add in a simultaneous video call with the group and it'll feel like old times. Have you tried virtually hanging out on Houseparty yet? Houseparty allows friends to chat one-on-one, get together in groups and play games with one another.

Post it on social
Social media challenges have been flooding our feeds over the last few weeks, and they're a great way to stay connected. Not only do they give you a chance to exercise your competitive streak, they also help break the ice. For a friend you've not spoken to in a while, tagging them in the latest Instagram challenge could be a much-needed conversation starter and give you an opportunity to check in with them and let them know you care.

Take friendly rivalries online
Online gaming certainly isn't a new way to connect, but it's a tried and tested winner. For years, gamers have argued it's possible to develop and maintain meaningful relationships online, without physical interaction. Professor Daniel Johnson, director of the Queensland University of Technology's Games Research and Interaction Design Lab, recently told Movember friendships developed through gaming and the way those interactions occur have allowed him to be more open and talk through difficult situations he's faced. So, what better time than now to get online and game with your friends? Set up a virtual NBA tournament or take to the battlefield in Call of Duty for ultimate bragging rights.

Remember the good times when sports were on
Men around the world are missing their sports fix, with most cancelled for the near future. But you can still connect by tuning into classic games from years gone by and watching them together. See what's on ESPN Classic or head to YouTube, pick a time to watch a game online and dial in a Zoom call with the group while it's playing. Commentating and reminiscing on the game together will make up for the lost connection in person. You can also do the same with movies or TV shows. Netflix Party lets you connect with friends and watch together.

Virtual book club
Some members of the Mo community have taken to setting up their own virtual libraries and book clubs. Create a WhatsApp group with a few friends and take turns recommending a book. You can then give each other a summary of a new book, or all discuss the same one. You may be able to lend books out to those who live close to you by dropping it in their mailbox during your hour of daily exercise. And for those who are further away, Amazon always has great deals on second-hand copies of thousands of books.

Dinner party from your couch
Host a dinner party without all the dishes by having your friends cook the same meal and sit down to eat together over Zoom. You can compare cooking notes and see who managed to master the recipe.

If you've got a musical friend, encourage them to take on the after-dinner entertainment. Pair your meal with a live mini-gig, virtual DJ set or even a group game like online Codenames or Pictionary.